Previous Summer Computing Academies
Summer Computing Academy (2021)
In 2021, Texas A&M High Performance Research offered the Summer Computing Academy program that promotes computing in middle and high school students from around the world. This year, the Summer Computing Academy (SCA) returned after a COVID-19 hiatus to offer virtual and hybrid (in-person and virtual) week-long summer camps. The SCA offers two virtual GenCyber camps that focus on building concepts in Cybersecurity in the GenCyber format. This was followed by Camp Secure, a Cybersecurity and coding camp, and Camp Smart, a first of its kind camp focused on introducing data sciences and artificial intelligence / machine learning to young learners. In all, the camps had over 150 enthusiastic students participating in computing activities. Both virtual and in-person programs included hands-on activities, educational games, lectures from faculty, tours of campus facilities, and a session dedicated to college admissions. To encourage participation from campers, undergraduate and graduate students participated as counselors. Camp Smart and Camp Secure had previous SCA campers return as junior counselors. The camps culminated in a poster or digital artifact creations contest during which campers developed innovative solutions to address todays' societal problems. Participants in Camp Secure used AI/ML and other data science techniques with modern Cyberinfrastructure techniques like pandas, regression analysis, interactive computing via Google Colab, APIs to pull data, websites, to analyze health, education, and gaming data.

Since its inception in 2017, the SCA program has provided enrichment to aspiring computing professionals. SCA alumni have gone on to participate in STEM and computing programs at the undergraduate level, including at Texas A&M. The program was made possible by a robust partnership with researchers and staff in the Department of Computer Science Engineering, the Department of Education and Human Resource Development, University Libraries, Texas Engineering Experiment Station, and the Division of Information Technology. The program gratefully acknowledges support from the Texas Workforce Commission, the National Science Foundation, NSF/NSA GenCyber, Dell EMC, Amazon Web Services, and Summus Industries.
Summer Computing Academy (2019)
In the Summer of 2019, High Performance Research Computing hosted our 3rd Summer Computing Academy. The Summer Computing Academy partnered with the Department of Computer Science and Engineering and the College of Education and Human Development. The program was supported by Google, GenCyber, the Texas Workforce Commission, NVIDIA, the National Science Foundation and the Lenovo Education Foundation. The 2019 program provided summer cybersecurity and artificial intelligence (AI) camp experiences across the nation for K-12 teachers and students to increase awareness of the exciting career opportunities within the field. The Cybersecurity camps offered an introductory perspective to cybersecurity principles. The AI camp, with more of a focus on programming in Python, exposed attendees to programming practices and contemporary computing issues and solutions such as cloud resources and live demos of self driving cars. During the camps, students learned about the problem solving and teamwork aspects of careers in engineering and also participated in computing challenges through various hands-on activities such as enhancing their problem-solving and debugging skills in Python. The program also introduced the students to cybersecurity principles and addressed topics such as information privacy and ethics. Altogether, the Summer Computing Academy hosted over 150 students from around the world.
Summer Computing Academy (2018)
We taught 22 high-schoolers programing patterns with a focus on cybersecurity, cryptography and using machine learning for image recognition, We used different pedagogical approaches to teach these topics. We also introduced the students to a virtual reality data center simulation that emphasizes aspects of physical, networking and software cybersecurity.
In terms of successes, we had a few. The maker-space aspects of exercises with image-recognition were a tremendous success with both male and female participants. The participants rapidly went from applying the program to finding ways to throw it off, showing a grasp of the core concepts. We also had a few experiences that will guide us the next time we try to do this again. Overall, it was a fantastic experience Interestingly, our greatest accomplishment may have been of a technical nature. We successfully ran a complete Keras/Tensorflow workflow on a Jupyter notebook on a Raspberry Pi! This includes the training iterations. We think that may well have been the first of its kind. This platform reduces the barrier to machine learning and all the hands-on activities that come with it. At $35 it is affordable for schools and on-the-site training. An extended abstract describing our experiments with different pedagogical approaches has been accepted by the SigHPC workshop at SuperComputing18. The complete paper will appear in the Journal of Computational Science and Education later this year.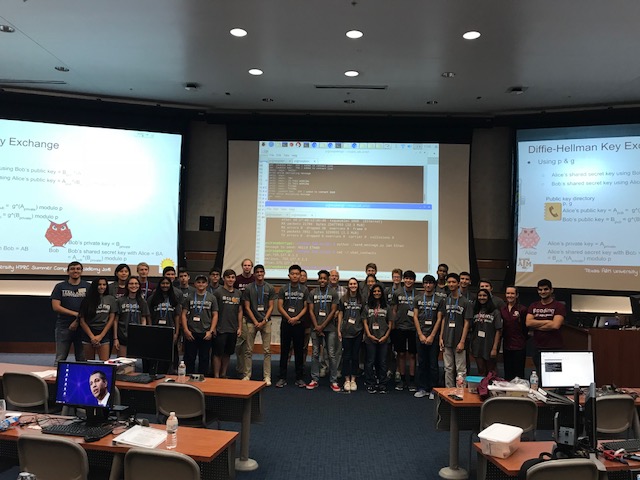 Summer Computing Academy (2017)
Texas A&M High Performance Research Computing (HPRC) held its first HPRC Summer Computing Academy from July 24 to July 28, 2017. Twenty-one high school students from College Station, its surrounding areas, and even as far as Florida, learned how to program on a Raspberry Pi computer, experimented with cool Pi sensors such as buzzers and LED lights, and even built a computing cluster using the Raspberry Pis. The participants also enjoyed tours of the A&M campus and some of its facilities. To cap it all off there was a reception with cake, ice cream, and sodas for the participants and their parents.
HPRC would like to thank the TAMU community for all their support:
We would like to acknowledge the support from NSF project 1730695.